Ethereum prices have reached their highest-ever levels during the morning of Nov 8. ETH is currently trading up 3.6% on the day and has made more than 10% over the past week.
The world's second-largest cryptocurrency by market capitalization has hit an all-time high of ,744 according to TradingView.
Ethereum is now trading above its previous ATH which was ,632 on May 12. The asset has made a whopping 540% since the beginning of the year, even outperforming bitcoin which has seen a gain of 125% in the same period.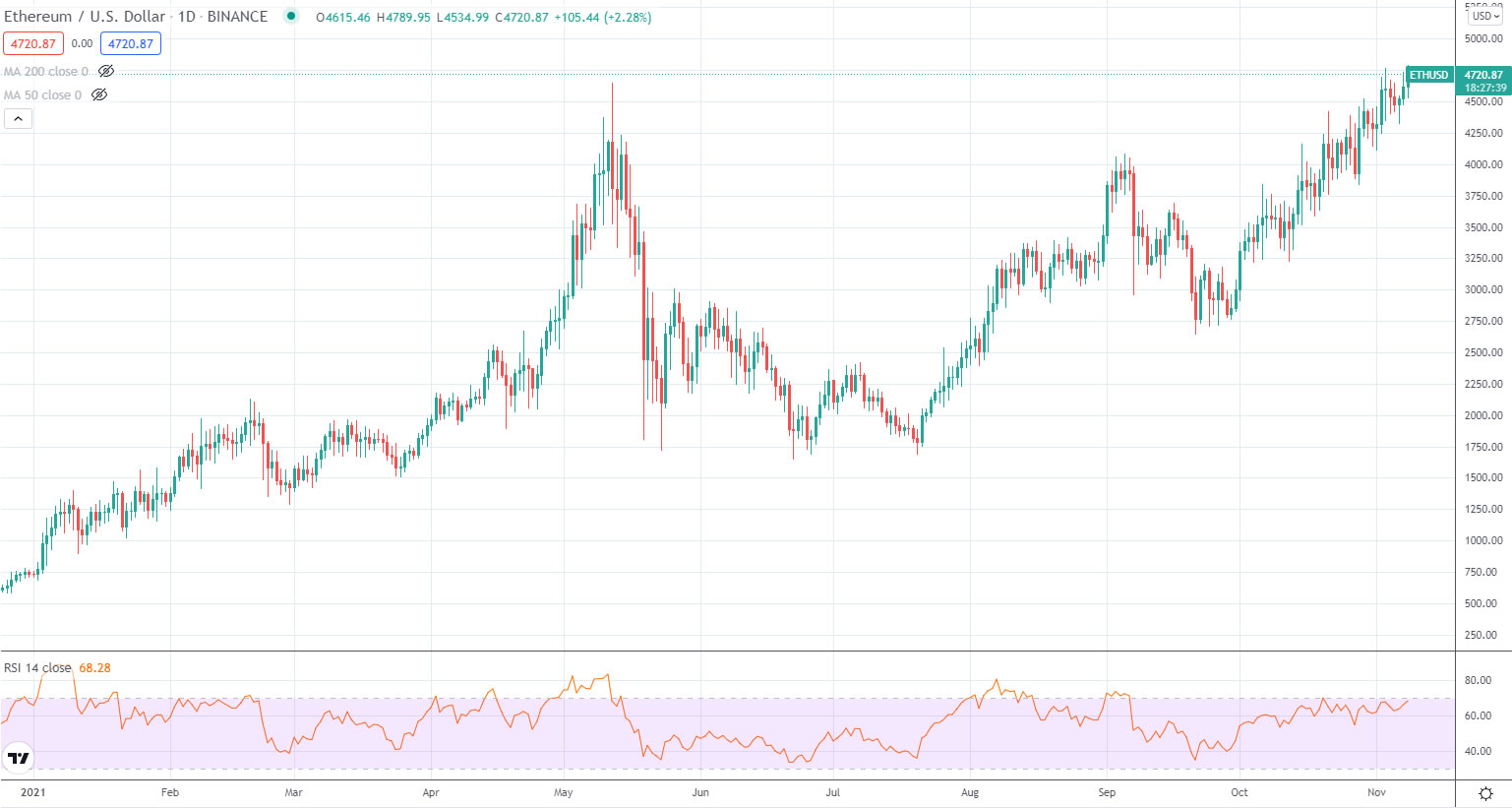 Popular twitter analyst 'LilMoonLambo' commented:
"Buying $ETH at ,600 in 2021 is like buying $BTC at ,600 in 2017."
Ethereum's market capitalization is now 0 billion which is larger than that of Wall Street bank JPMorgan Chase, but below Chinese tech giant Tencent which has 6 billion.
To put this into perspective, just 11 months ago in December 2020, this was the same as the entire crypto market cap. That total has also just hit an all-time high of trillion according to CoinGecko.
This brings the aggregate crypto market to nearly one-quarter the size of the entire gold market cap which stands at .5 trillion according to CompaniesMarketCap.
Ethereum on-chain activity peaks
Ethereum's hash rate has also hit a new peak according to on-chain analytics provider Glassnode. It's the first time the Ethereum hash rate has reached 1 EH/s having surged from the previous ATH of 876 TH/s on Nov 2. Ethereum mining difficulty is also currently at its highest ever levels.
Glassnode has also reported that Ethereum continues to leave centralized exchanges. Around .4 billion in ETH has flowed into exchanges while billion has left them resulting in a net loss of .6 billion over the past week.
Ethereum futures contracts open interest has even reached an all-time high of billion on Bitfinex according to Glassnode.
Transaction fees have also been pretty high recently though they have fallen back to an average of around according to BitInfoCharts.
Burning the gas
Higher gas fees mean that more ETH gets burnt through the mechanism introduced by EIP-1559 in early August. According to Ultrasound.Money, almost 800,000 ETH has been burnt over the past three months or so. At current prices, this is valued at around .7 billion.
The value of all the ETH staked on the Beacon Chain is at a record high of .7 billion at the moment. According to Beaconcha.in there is 8.18 million ETH locked up and earning interest on the Ethereum 2.0 blockchain.
The post Ethereum Tops ,740 in New All-Time High Rally appeared first on BeInCrypto.